Top Ten Tuesday was created by The Broke and the Bookish in June of 2010 and was moved to That Artsy Reader Girl in January of 2018. It was born of a love of lists, a love of books, and a desire to bring bookish friends together.
This week's prompt is New-to-Me Author I Read in 2020. I know I have read some books from different authors, most especially new authors. I think I have more new-to-me authors in 2020 than I did in the previous years. So with that being said, I will list down the authors, as well as the books I managed to read by them.]
#1 Brigid Kemmerer
A Curse So Dark and Lonely

The only reason why I found about this author was when the second book was set to be released on my birthday last year. I was excited and just read the first book in one go. It was really good and when I won a giveaway, I requested for this book and the second one. It was unfortunate that the books didn't get to me sooner because of the pandemic. So I am just started the second book this year. But I've seen she has other books, contemporary ones, that I am very much interested to read some time soon.
#2 Neal Shusterman
Scythe
Thunderhead
The Toll

I have heard a lot of things about Neal Shusterman but never picked up his works. I don't know why, but I just didn't. But as soon as Thunderhead was released, the buzz was going around that this series was great. So that's why I picked up the book and adored his work.
#3 Jenna Evans Welch
Love & Gelato

Jenna has only released 3 books and I have read one book. I have seen the buzz going around about this author and her books that surrounds LOVE. I first got a copy of her book in 2019 but only managed to finally pick up her work in 2020 and really loved it. Now my mission is to get copies of her other works and dive into the adventures she has in store of me.
#4 Siobhan Vivian
Stay Sweet

I wouldn't read any of Siobhan Vivian if it weren't for Jenny Han. She came with Jenny in the Philippines for a book signing and I just adore that she was the reason why I decided to finally read her work. I was fortunate enough to find two of her books on a book sale in a local bookstore. I was excited because the books were marked down really good and I just cannot say no to not buy it.
#5 Leigh Bardugo
Six of Crows

I was so intimidated with the whole Leign Bardugo world. I was so not ready to dive into her world because I don't want to be disappointed. But once I finally got copies of the Six of Crows duology, I finally gave in and read the book. So technically, she's not a new author because she's well known. It was only in 2020 that I finally gave in and read her works.
#6 Emma Lord
Tweet Cute

Emma Lord was not even in my radar prior to reading her work. I just found this book, Tweet Cute, that sounded so good and enjoyable. So I picked it up and really enjoyed it. I love the banter between the main characters and how enjoyable they were. I also love that they didn't know that their enemy on the socials was a in-real-life friend or acquaintance.
#7 Ashley Elston
10 Blind Dates

Hailey in Bookland was the reason I found out about Ashley Elston, as well as the book that she released that just fills my cravings for a Christmas book in the middle of summer. I really enjoyed the book and how the family are very involved in the entire blind dates. Some might have been awful but all were really enjoyable to witness as if we are experiencing those dates with her.
#8 Rick Riordan
The Lightning Thief
Sea of Monsters
The Titan's Curse
The Battle of the Labyrinth
The Last Olympian

Rick Riordan is not a new-to-me author but I have not read any of his works since. It was only in 2020 that I managed to read his works. The only push I got to finally read his works was a couple of Filipino booklovers decided to organize a readathon solely dedicated to Percy Jackson. It is also the announcement of the rebooted of the Percy Jackson books into film with Disney Plus. I am just so happy about it!
#9 Josie Silver
One Day in December

Josie Silver is a new author and she is a new-to-me author as well. The reason why I discovered her was because of Hailey in Hailey in Bookland. She read this last 2019 in her Bookmas videos. She liked the book and I know I would love it too because she is usually the BookTuber that I get some recommendations. We somewhat have the same taste in books. So I trust her recos and this author is from one of her recommendations.
#10 Alice Oseman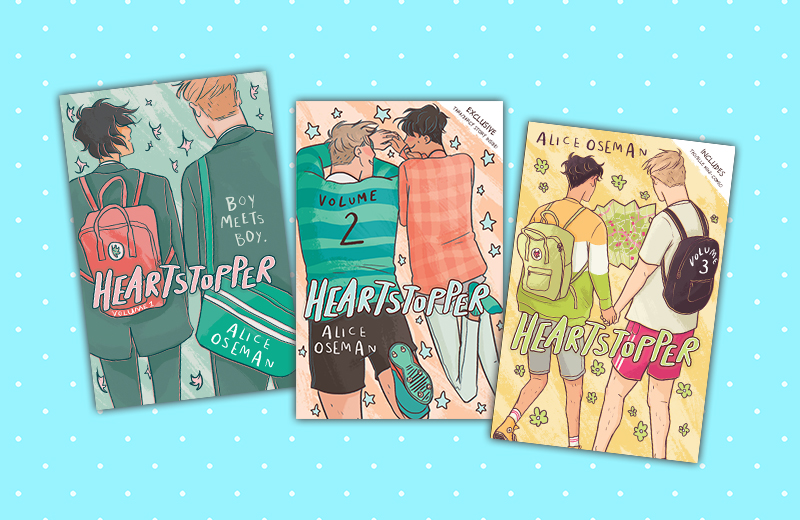 Heartstopper Vol. 1
Heartstopper Vol. 2
Heartstopper Vol. 3

The reason I am reading the books are because I have decided to make reading graphic novels a habit each month. I kept seeing these graphic novels all over the community. I know Alice Oseman has other books out that aren't graphic novels. I am intrigued with her books but have not read them just yet. So I started with her graphic novels that is less intimidating.
If you want to join this Tuesday prompt, you could check this post for the list of prompts for the next coming Tuesdays.
Have seen my previous Top Ten Tuesday Posts?
FIND ME AT
IG: @wandersbetweenpages| FB: Wanders Between Pages