Top Ten Tuesday was created by The Broke and the Bookish in June of 2010 and was moved to That Artsy Reader Girl in January of 2018. It was born of a love of lists, a love of books, and a desire to bring bookish friends together.
This week's prompt is Spring Cleaning Freebie (for example, books you're planning to get rid of for whatever reason, book's you'd like to clean off your TBR by either reading them or deciding you're not interested, books that feel fresh and clean to you after winter is over, etc.). So with that being said, I have decided to list down the books I plan to read this month because I failed to post my March TBR for the readathon I joined this month, Women Readathon.
Below are books written by amazing women that I plan to tackle and read this month:
🍀 A Heart So Fierce and Broken by Brigid Kemmerer

I have started this in January and I have not continued reading it right now. I am excited to finally get into the world again because I loved the first book. I am just having a little problem with getting back into the world. I think I'm not reading to read fantasy books right now that's why I am really struggling. But because this month is Women's Month, maybe that would be the motivation I need. Besides this book being written by a women, we have a couple to strong and badass women in this book!
🍀 Again, But Better by Christine Riccio

Now that I have this book on my hand, I can finally read my favorite Booktuber's debut book and I am really excited. Also this book is a book about a college student's life after college and a coming-of-age story. And that's about it with what I know about this book. All I could say is that I am hella excited and can't wait to see Shane's life.
🍀 Crescent City: House of Earth and Blood by Sarah J. Maas

It's been a year since this book was published and only got the chance to get a copy last month, so that is shows that I have not read it. So this month is the month for it and I managed to not get spoiled with this book, which is such a shocker for me. I am proud that I was not able to see and understand or get spoiled with this book. All I know is the fact that the first few chapters are dragging and would be info dumpy but that is expected as this is a completely new world for us.
🍀 Kingdom of Ash by Sarah J. Maas

Your girl has not read the last book of the Throne of Glass series because I am just not vibing with ending that world and that Rowan is annoying me, a lot. But I am going to really force myself to get into the world again by reading and watching recaps from the previous books to get into it again. I have started it already but because I somehow forgot most of what happened in Empire of Storm, I have to refresh myself with what is happening in this world. It is helping me understand the book now, so it would be easier get back to it now.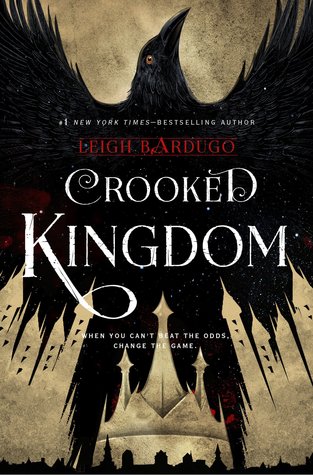 🍀 Crooked Kingdom by Leigh Bardugo

I read the first book last year but I was not able to read the second book right away for no apparent reason. I just fell of my reading and didn't read fantasy books last year. So this month would be the month for that. I am excited to revisit this world, but I will be watching and reading some recaps about Six of Crows, so that I could get a refresher.
🍀 Love & Luck by Jenna Evans Welch

After reading Love & Gelato last year, I am excited to read the second companion book this year. So I am excited to read this because I am into Ireland because of a certain member of a then boyband, now a soloist, Mr. Niall James Horan. That just adds up the reason why I want to read this book. I might enjoy because I read the little synopsis and kind of intrigued with it now. We'll see how that goes because I enjoyed the first book and the adventure around Italy.
🍀 The Shape of You by Georgia Beers

This book is an ARC that I believe I received 2 years ago and I failed reading it then, so I am making it a priority to read my ARCs because I just need to get back to writing reviews on here and bookstagram. So I honestly have no idea what this book is about. I'm jumping into it blind because that just how I roll with my reading and that's how I keep the interest high for books.
If you want to join this Tuesday prompt, you could check this post for the list of prompts for the next coming Tuesdays.

Have seen my previous Top Ten Tuesday Posts?
FIND ME AT
IG: @wandersbetweenpages| FB: Wanders Between Pages