Hello bibliophiles! Happy New Year! I know I am exactly 4 days behind greeting you with that. I have my reasons but that would be not the topic for the day. For today, as you can read from the title is my pending December wrap-up and book haul!
This month I only managed to buy just one book and the other 2 that I received were books from a giveaway that I won at the earlier of the year. So I only got 3 books for December!
First book on the list is the one I got myself, A Sicilian Marriage by SweetBlunch. I have been dying to get this book since it got released but didn't get right away because shipping fee is killing my wallet! So before buying it I decided to read them on wattpad, as it was still available for free reading at that time. So when I visited the mall and saw the book on the shelf, I got it and now it is here!
Then the last two books are a part of a trilogy with the third book coming out this month, January, I believe. I got these books from ate Sherna of @bookworm.swiftie's giveaway last year. I got A Curse So Dark and Lonely and A Heart So Fierce and Broken by Brigid Kemerrer.

I read the first book last year in January right before the second book got released on my birthday, if I may add. And once the second book was out, I didn't push myself to read the second because I won a giveaway and requested for those two books! So now that I have it, I can finally read the second book and make my way through the third book right after.
I managed to read 11 books, which is 5 novels and 6 graphic novels. I am just so happy about it. And that also made me reach my reading goal with 86 books read for 2020.
🍂 One Day in December by Josie Silver
❤️💛 💙 💜 .5

This was a really unexpected read because it started off with me knowing the plot twist. But I pushed through and enjoyed the book so much! I liked seeing the characters be on their own before they got together after 10 years. It was a really great journey.
I have a review posted about this book because it deserves a full review.
🍂 The Honey-Don't List by Christina Lauren
❤️💛 💙 💜

I really got confused about this book but really enjoyed it nonetheless. The four protagonists were quite confusing at first because of how a mess their lives has been but as soon as the book tour started it was now clear. I felt so sad for Carey that she was not credited with all the thing she had done for the couple. So glad that they were able to piece out everything at the end of the book.
🍂 Angefall by Susan Ee
❤️💛 💙 .5

This was different to the usual fallen angel book and I have to say this was better in a way. I love the story but I honestly have no idea if I'd ever try to read the next books because I have yet to find copies of the rest of the books. If I'd get a copy sooner, I'd read it of course. But maybe I am just confusing this because of the Mortal Instruments.
🍂 The Twelve Days of Dash and Lily by Rachel Cohn and David Levithan
❤️💛

This book was a bit of a let down, which I didn't expect it to be. I really enjoyed the first book and it sucks that this book was disappointing. It started of really well with the whole surprising Lily for the 12 days of Christmas but that was just awful that they didn't work that thing out. There are good scenes but it didn't redeen anything. Lily was acting up so hard in this book which really annoyed me.
🍂 Avatar: The Last Airbender: Smoke and Shadow Part 1 by Gene Luen Yang
❤️💛 💙 💜
🍂 Avatar: The Last Airbender: Smoke and Shadow Part 2 by Gene Luen Yang
❤️💛 💙 💜
🍂 Avatar: The Last Airbender: Smoke and Shadow Part 3 by Gene Luen Yang
❤️💛 💙 💜 .5

Those three graphic novels just made me love the original Team Avatar and it was nice seeing how things were unfolding after the hundred years war. It was nice seeing how everyone else were adjusting with all that and it was evident that the fire nation was struggling the most. At least at the very end they were able to trust Fire Lord Zuko as they should be.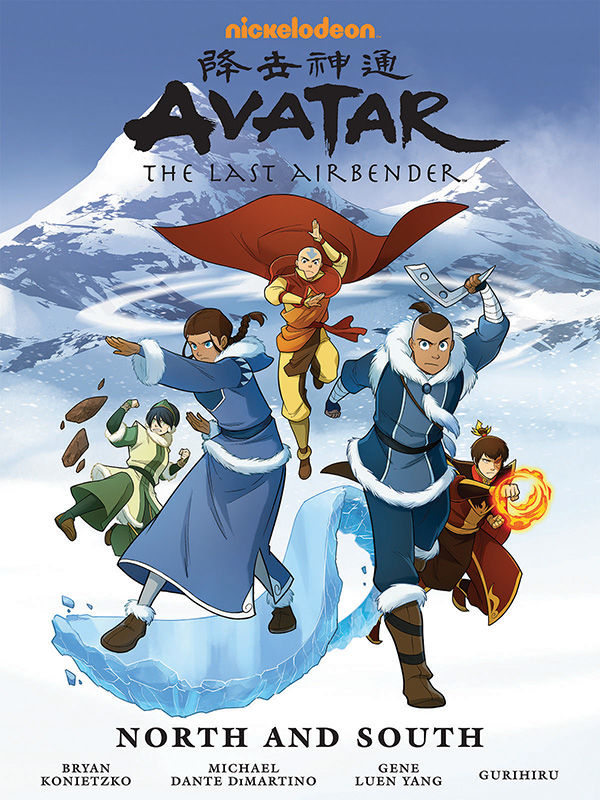 🍂 Avatar: The Last Airbender: North and South Part 1 by Gene Luen Yang
❤️💛 💙 💜
🍂 Avatar: The Last Airbender: North and South Part 2 by Gene Luen Yang
❤️💛 💙 💜
🍂 Avatar: The Last Airbender: North and South Part 3 by Gene Luen Yang
❤️💛 💙 💜

After being in the fire nation, we get to see the water tribes' state after the hundred years war. The North Pole was doing better than the South and it nice to see how things are doing. They are trying to develop their area but some just cannot handle how the north has plans of taking over the south. But it was nice that they were able to settle things, just like how things should have been.
🍂 In a Holidaze by Christina Lauren
❤️💛 💙 💜 💚

This was such a good book to read before the year ends. A Christmas book to end the holiday season is a good mood for me. Makes me hopeful that things will be better. And despite how things are running, we don't have a chance like Mae did, but at least we get to learn that we have to think first before jumping into things.
So that's about it for today's post! See you in the next post!
FIND ME AT
IG: @wandersbetweenpages| FB: Wanders Between Pages